So, last night I watched the Grammy Awards. As much as I love the fashion of the Oscars and the Golden Globes, the Grammys are my hands-down favorite awards show. You usually get some pretty good musical performances, and last night didn't completely disappoint.
Let's see. Bruce Springsteen opened the show. I'm not a fan at all. AT ALL. Like, I don't know if I would go to see him if you paid me. I just don't really get his music. But lots of people disagree with me, and I suppose that even as a non-fan, the performance was good.
Rhianna did a pretty darn good job. She is looking like she has been hitting the gym hard. I am super-jealous of her body and her dance moves. All the hours I've logged playing Just Dance on the Wii do not give me even an ounce of what Ri Ri has going on. Also, I'd never really been that impressed with her dancing before, but she brought it last night.
Has her body always been that ridiculous? I need to know what she does, immediately.
Oh, and what was the deal with the Rhianna/Coldplay colloaboration? Unexpected, but not so good. I don't know....I like Coldplay alright, but I don't' think they're all that.
(On a related note, my favorite Coldplay song is "The Scientist." Did you know that Willie Nelson just recorded that song? It's sooooo good. Find it on iTunes. I just noticed it's #26 in the top singles).
Foo Fighters. Aaaahhh! My faves. I have had a major crush on Dave Grohl for a long time. I like to call him my rock star boyfriend. He is the hottest rocker around. They always play good, solid rock and roll.
Plus, I was watching Taylor on the drums, thinking how good he is, and then remembered that Dave Grohl is even better on drums. Remember that little band called Nirvana? And for those of you who don't love his grunginess (I let him get away with it due to his rock star status), here is is all clean cut. Adorbs.
Then there were the Beach Boys. Besides the fact that Brian Wilson looked totally sedated and overly Botoxed, and the rest of the guys seemed extremely stiff, they actually sounded really good. I just had to close my eyes while they played, though, because seeing them so old was just a little unnerving.
I loved Taylor Swift, but if I see her act shocked at the love she gets from her audience one more time, I may scream. We get it. You are surprised you're so popular. That was sweet a couple of years ago, but now you've sold millions of albums and won tons of awards. Modesty is a great trait, but I'm starting to think you practice the "oh my gosh! you like me!" look in the bathroom mirror at home.
Is Neil Patrick Harris giving her the stink-eye in this picture?
Oh, and her opening act, The Civil Wars, are topping my must-downloads for today. (yes, my musical tastes are much varied).
Katy Perry was pretty good, for her. I always have mixed feelings about her, but I find myself liking her better now that she ended things with that freakshow Russell Brand. Good riddance. I felt pretty certain she was singing "Part of Me" to him. That was quite an outfit she was sporting, wasn't it? I saw several Twitter comments about gold camel toe. Yuck.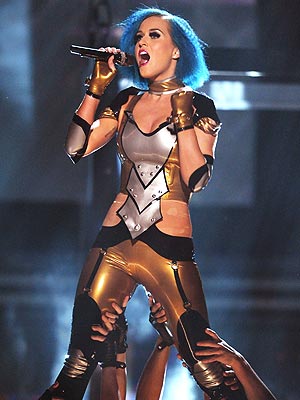 Adele. What can I say about her that hasn't already been said? Girl can SING. She's soulful, she's got pipes like nobody's buisness. I love her. And that accent is the best. I actually don't have either of her CDs, but I think I'm going to have to download both.
My BFF Gwynnie introduced Adele. At some point in the night, Gwyneth and Rhianna compared dresses and svelte figures:
One final note: I think Mark Anthony is super-creepy looking. Apparently, that doesn't hurt him in the least. He seems to be doing just fine post-J Lo-split, and had a little Venezuelan arm candy at his side last night: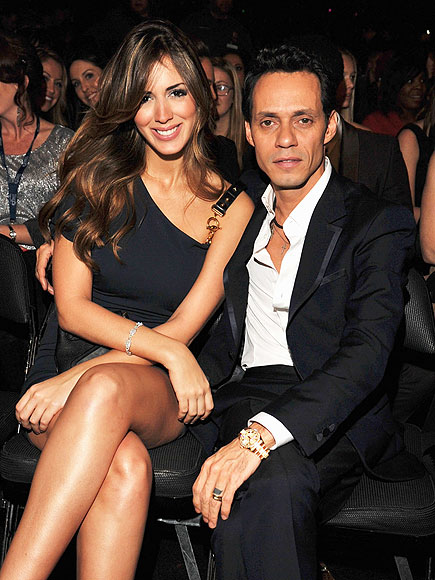 Seriously. He looks like a corpse.
All in all, I enjoyed the show. Now I'm off to spend some iTunes dollars.