Ever since we remodeled our kitchen and put hardwood floors in our den, I've been wondering what the next project is (much to Morgan's chagrin). Although my bonus room is in dire need of organization, it's the master bedroom that is truly in the most need of some re-design. It's terrible. It is anything but a haven or a peaceful sanctuary. It's a chronic mess, the place where all of my good intentions of a well-kept home go to die. Clothes are constantly strewn over the chairs, both dressers are cluttered, and while the bed is usually made, the bedding is second-rate.
So, it is for those reasons that the master bedroom is my next undertaking. Last year, we (okay, Morgan) painted the room a great color. I believe it's "Quiet Moments" from Benjamin Moore. It's a grey-blue, and it lives up to its name.
I'm happy with the color, so we don't have to paint. I'd LOVE a new bed. We currently have a queen, and we need a king. It would be a tight fit, but it would work. And, I'd like to change out the headboard from the dark wood one that's in there to a nice upholstered one. Maybe like this?
I
via www.housebeautiful.com
I suppose the change in bed can wait. I think the biggest thing we need right now is window treatments. I'd really, really, really like to put plantation shutters all over my house. I think my husband would have a heart attack if he found out how much that would cost, so we're not even putting the idea on the table. Instead, we'll go with new curtains for now. I was at Target the other day and was shocked when I came across these:
I know they aren't truly designer, but really, for $25/panel, they are a seriously good deal. Alas, the 96" are sold out online and not available in stores. Sigh. I perused Target.com a little further, though, and came across these:
They're slightly costlier at $50/panel, but still a bargain for window treatments. My hesitation is that they are an indoor/outdoor fabric, so I can't tell if the way they hang will be all that attractive, but I think I'm going to pull the trigger on them today. With the right hardware, I think they could be good.
My other thought was to take the room in a more modern direction with these panels from Crate and Barrel: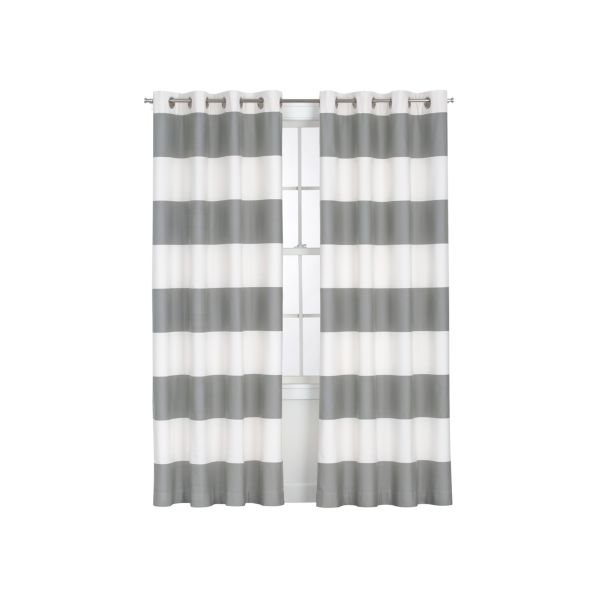 I love the wide horizontal stripes, but I think that grey is a little harsh, and doesn't go with the rest of my house at all. In the right space, I think they'd be knockout.
There are also two chairs that currently reside in the bedroom, which are primarily resting spots for discarded clothes. You know, the stuff that either needs to be hung up, folded in a drawer, or tossed in the laundry. One of the chairs sits in a corner that it really doesn't belong in. I keep seeing fiddle fig trees pop up on decor blogs and in shelter magazines, and I just love them. In fact, I think I need one in my living room, too. So, that purchase is on the agenda for the weekend. I just need to figure out where to get one.
A couple of new bedside lamps would be nice. I thought about doing wall mounted swing-arm sconces, but I just don't think they have the coziness of a nice table lamp. I've had my eye on these Robert Abbey ones for a while now:
Of course, all of this will need to be topped off with new bedding. Duh. I love nothing more than an all white bed, with lots of layers of varying textures. Maybe a hint of color in a throw pillow or two. This image, from Pinterest, is just perfect to me:
I'll keep you posted on the progress.