I will never claim to be the most fit person in the world, but I do like to stay ahead of my calorie consumption, so regular exercise is part of most of my days. I have to work out in order to eat like I do (2 Krispy Kremes this morning, for instance). I often think that if I could work out AND cut out bad food, I might actually look like I really want to, but really, I like food. And wine.
Anyway, in order to keep me motivated to run, go to the gym, whatever, I have to keep things fresh. So, today, without further adieu, I present to you my favorite recent exercise finds:
1.
Rock My Run
I don't run by myself much anymore. Time alone with my own thoughts is far too scary. But when the universe's forces are working against me and I have to run alone, I need good music. Enter Rock My Run.

This website has pre-made running mixes, put together by some pretty big DJs. I'm not really into the DJ scene, so I'll take the site's word for it. I've downloaded two FREE mixes so far, and they really keep me moving on my solo runs. I guess the downfall is that when you download, you're downloading the whole mix, and therefore can't skip any songs you don't like. However, since they're DJ mixes, most of the songs aren't full-length. I was so excited when I downloaded a new mix this morning that included Bell Biv Devoe's "Poison" and Boyz II Men's "Motown Philly" in a bit of a mash-up.
2.
lululemon
I think I have made my love for this brand pretty well known lately. The opening of the Raleigh store may be my financial downfall. My current favorite is my Run:Full Tilt Long Sleeve top:
I adore this top. Besides being the cutest top in my workout drawer (ruffles!), it's soft and cozy. And it has those fun little thumb hole things, which I love. Even better is the little zipper pocket near the bottom that can hold my iPod. Despite the fact that it's overpriced, I'm very tempted to invest in one more of these babies.
I'm also really tempted to get these new striped Wunder Unders.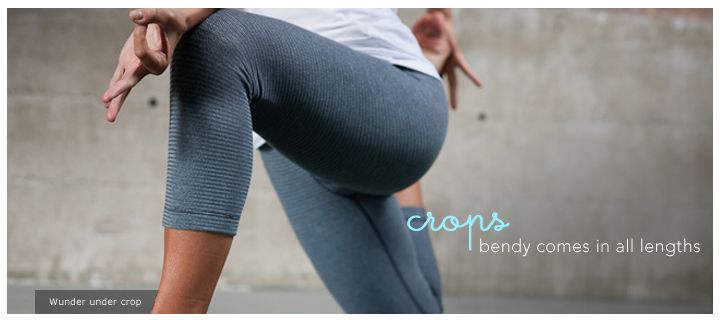 The fabric is supposedly the same as my other beloved (plain black) Wunder Unders, but it's pique, or something. I tried them on, and I'm kind of worried that they're going to be hot for gym workouts. So, I'm on the fence.
3. Since I'm not made of money and can't really outfit myself solely in lulu, I like to diversify. One of my very favorite finds ever is these Old Navy compression capris:
I seriously paid $15 for these on sale. I initially ordered them in grey (I think ON calls it carbon). I love them so much I just ordered a second pair in black. They're great for running and the gym. The waist is high enough that they hide any muffin top, and they don't slide down during a run. Plus, whenever it's more than 35 or 40 degrees outside, I just prefer a cropped running pant. I get toasty pretty easily. Layers are my friend.
Anyone have any favorites to share? Please post in the comments.
I've got Ava home sick again today, so I had to miss one of my favorite torture sessions gym classes.Luckily, my sweet husband let me sneak in a run this morning after I dropped Davis at school.I have a feeling Ava will be home again tomorrow. If that's the case, she'll be coming with me to my kitchen designer consultation. Good times!